Email & SMS Database Management
Building and Maintaining Your Subscriber Database
We've built data security, segmentation, and data-privacy-compliance tools into Everlytic to simplify your database management process, reduce duplicates, and ensure that your customer information is always secure.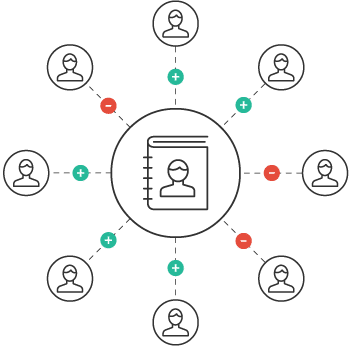 Top Data Security

Custom Data Fields

Multiple Lists

Segmentation

Easy Data Updates

Data Privacy Compliant
Superior Data Security
Everlytic implements the highest security mechanisms to protect your customer data and we've passed numerous audits and penetration tests by industry leaders. Additionally, our platform is aligned with the OWASP top 10 security principles for software engineering, encryption technologies, and security assurance.
Easy Data Imports
Importing contacts into the system is as easy as uploading a spreadsheet or copying and pasting the contacts into the platform. Our powerful API can also connect Everlytic with your CRM system, enabling you to import contacts from existing databases automatically, keeping all your contact data relevant and in one place.
Custom Data Fields
Can't find the database field you need from the standard options available in our platform? No problem! Create your own custom fields for the kind of data your business uses, so you can customise your messages to your and your customers' needs.
Segmenting Your Lists
Segmentation and contact tagging allow you to create groups of subscribers based on almost any variable, including interest, location, or personal information that you've collected. You can also enable the system to auto-collect interest tags based on the links that they click in your emails. With this information, you can create hyper-personalised content that's always relevant.
Easy Data Updates
Everlytic protects you from sending the same person multiple versions of the same message by ensuring that each contact in your database has a unique identifier. This takes the hassle out of updating their information and detecting duplicates. It also means that only new or changed fields update with new imports.
Data Privacy Compliant
With Everlytic, you have the tools to comply with a variety of data laws, including POPIA, the GDPR, and CAN-SPAM.
Managing your database doesn't have to be risky, manual, or time consuming anymore. Simplify and automate the process with Everlytic.