Given that email is cheap, near-ubiquitous and the world's default tool for business communication, why is relatively little attention seemingly given to it as a marketing channel? Lack of 'sex appeal' in the digital era may be the answer, writes Cara Bouwer.
What's not to like about email marketing?
It's affordable, simple easily personalised and less invasive than cold calling. But, in the face of sometimes 'sexier' digital and direct marketing channels such as social media, video or even SMS, email is seemingly often neglected.
Globally, the effectiveness of email marketing is increasingly being supported by statistics, many of which come out of the US. The Direct Marketing Association there, for example, notes that email marketing yields an average 4 300% return on investment for businesses in that country.
Salesforce Marketing Cloud, an American-based provider of digital marketing automation and analytics software and services, says that for every US$1 spent on email marketing, the average return on investment is US$44.25. Management consultancy McKinsey & Company – an impartial observer of marketing efficacy – claims that email conversion rates are three times higher than social media, with a 17% higher value in the conversion.
Email's low profile as a marketing channel is contradicted by its effectiveness, believes Vera Romano, Marketing Manager of South African marketing cloud company Everlytic. "The social media buzz took the world by storm and through that email somehow got relegated to second cousin," she tells Strategic Marketing. "However, the stats have proven that email is still more effective than social media and is particularly good at driving customer loyalty. These days Twitter and Facebook are amongst the biggest senders of email in the world."
Everlytic's insights, contained in the 'Email Marketing Benchmarks Report 2014', indicate a marked increase in the use of email marketing in South Africa. "This is definitely due to raised awareness levels about the effectiveness of email, not only as a brand awareness tool, but more specifically as a lead-generation tool," claims Romano.
Elizabeth Lee Ming, Head of Digital Marketing and Communications at financial services company Momentum, believes such research is vital in tracking the channel's local popularity and determining trends. Relatively speaking, South Africa is still a small email market, she notes. "Compared to many international markets, we only send out a fraction of the number of emails." But as trust grows in the medium, so too will uptake.
For now, though, local research indicates that South Africans have a deep mistrust of clicking on the 'unsubscribe' link in an email for fear of instead becoming the victim of a phishing scam. However, the past two years have seen an increase in the number of people who are willing to do so. "This is great news and hopefully we will continue to see this positive trend." says Romano. It is ultimately better for the consumer, who isn't bothered by an unwanted email, as well as for the marketer, who now knows that the message is not welcome.
Email's past imperfect
Since email has been around for longer than any other digital channel – some call it the 'original social channel' – this consumer suspicion may come from well-publicised past mistakes, some of which were made in the early days of the medium's existence. One more recent example is the New York Times newspaper emailing more than eight million readers – who were not necessarily subscribers – and asking them to reconsider cancelling their subscription. In fact, only 300 people were supposed to have been emailed. This caused great confusion and when the publication then said the email was 'spam', there were concerns that hackers had gained entry to its database. All in all, an 'email fail' of significant proportion. Another, earlier, faux pas saw American pharmaceutical company Eli Lilly send a mass email to individual users of Prozac, its anti-depressant product. But the errant employee didn't hide the email addresses by using the 'Bcc' function ('blind carbon copy' which allows the sender of an email message to conceal certain recipients), thereby revealing the entire list of its Prozac clients to each other.
Claimed conversion rates are three times higher than for social media
The incident raised concerns around the privacy of personal information in the very sensitive medical environment. Romano remembers that "there was a period where over 90% of the world's email was spam and this caused massive irritation with the medium, as well as bad press. Organisations around the world work tirelessly to fight spam and, as the filters get better and email authentication improves, so the medium becomes less cluttered and more trusted. We have a way to go still, but we have seen enormous improvements on this front recently."
Getting more cluttered
But while better anti-spam measures can reduce email clutter on one front, as the global footprint of emails grows in emerging markets due to increasingly better-connected businesses and consumers, the result is likely to be more clutter from this source. Market research firm The Radicati Group estimates that currently 205-billion emails are sent or received by 2,6-billion users every day and, on average, a single user receives 88 business emails in a day.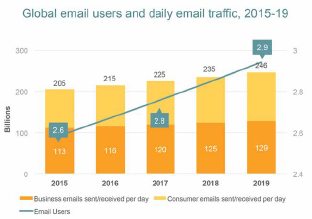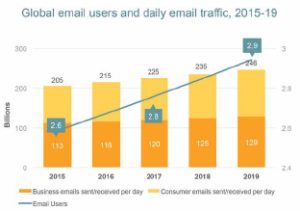 With one-third of the world's population expected to be using email by 2019, this would translate into 2,9-billion email users sending 246-billion emails every day. Locally, Everlytic's insights indicate that most South Africans – 93% according to its research – are able to manage their inbox. However, Romano does note that "we have also seen a trend that most people have a second private email address that is independent from their work email address. This allows for their personal communication preferences to go into one email address that they place value on."
Recent research by email marketing software firm BlueHornet also noted that most consumers have at least two email addresses and observed in its '2015 Consumer Views of Email Marketing' report: "Younger respondents (34 and under) were much more likely to use a separate email address specifically for marketing/ advertising messages." Actions like this, which are designed to protect email accounts from unwanted intrusions, highlight the importance of initiatives like the Direct Marketing Association of SA (DMASA) Opt Out database, which consumers can sign up to and request that the association's members do not contact them. However, Romano observes that, while the database 'has had some affect', most people have simply not bothered to add themselves to the list. She believes this comes back to her earlier point. "More awareness must be created around trusting the 'unsubscribe' link in an emailer – because this should be the most effective way to opt out."
The nitty gritty
With the Protection of Personal Information Act due to come into operation in South Africa (although the actual implementation date still remains nebulous), Lee Ming feels those working in the industry need to be careful as to how they approach email marketing and must become more creative and bespoke in their use of databases. "What is going to become much more important will be building your own databases around your own communities and special interest groups," she says. Romano agrees that building a legitimate database which a company can then use to collect more detailed customer information is the ideal way to operate. "Every interaction with your current or future customer is an opportunity to gain information about that person and their preferences.
Email anti-spam measures have been improved
This allows you to break up a big database into smaller, segmented, lists and then send personalised communications to 'like-minded' individuals," she says. By targeting an email down to an individual's preferences and behaviours, and blending this with dynamic content and mass personalisation techniques, we can get very close to that highly elusive 'market of one', states Romano. She also notes that the use of analytical tools such as big data is making it easier for marketers to tailor their messages and optimise and track their campaigns: "You can measure everything from 'opens' and 'clicks', through to the person's location and even what device they used to read the email." Lee Ming does point out that this level of 'market of one' customization is far more prevalent overseas than in South Africa. "These are relatively new concepts in this country and it will still be a long journey to get people to understand the value and how to do this," she says.
A focused approach
But it appears there is value to be tapped into, particularly among younger South Africans who are increasingly open to email marketing and other direct marketing approaches. This supports research from Harvard Business Review, the respected Harvard Business School publication, which noted in November 2015: "With US$200-billion in annual buying power expected by 2017, Millennials (also known as Generation Y, those born between the early 1980s and the early 2000s) have become every brand's coveted customer. But what is the best way to reach them? E-mail." HBR notes that marketers using the medium should be aware of timing and experiment with the right time of day to email, keep messages short and impactful, ensure design is suited to mobile consumption, and should use appropriate emojis to succinctly convey messages. Everlytic's local research also shows an increase in email activity among high school students, versus the levels seen three years ago. Says Romano: "From high school [age] we see youngsters using email, something that increases as they move on to tertiary education and finally reaches a plateau when they start working, given that email is the de facto business communication tool. Usage starts to decline again after retirement."
Rands and Cents
With South Africans aged 35 and under making up about 66% of the population, according to government statistics, it is likely that email marketing will increase in popularity as marketers increasingly seek out ways to engage with these young consumers. That should also drive up the sector's worth which, says Romano, is believed to be upwards of R500- million per annum. Within the digital marketing realm, email marketing has the added benefit of being budget friendly. "Email is one of the most cost-effective means to communicate so directly and personally with your target market," claims Romano. "Where else can you talk with a potential client for only a few cents per message and know that your message is reaching your prospect?"
This article has been republished with the permission of IMM Journal of Strategic Marketing, the official publication of the Institute of Marketing Management (IMM) of South Africa. Subscribe or buy a copy from select CNA or Exclusive Books outlets. Visit their website or follow them on Facebook for marketing insights.