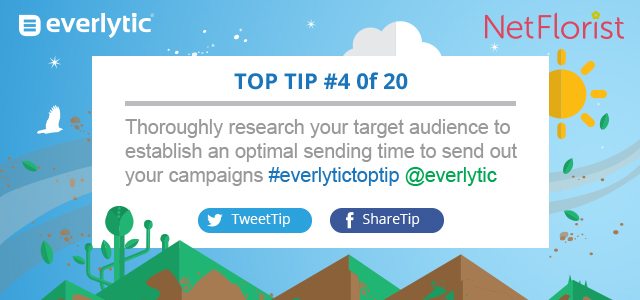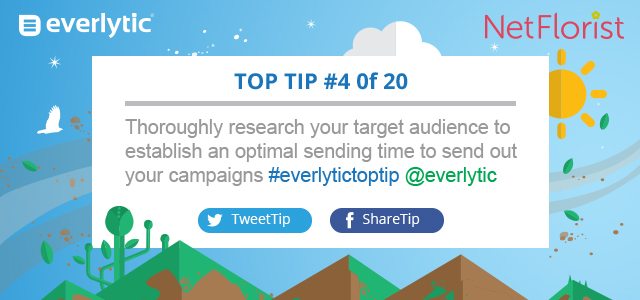 by Vera Romano
On Friday our Top Tip #4 was released, "Thoroughly research your target audience to establish an optimal sending time to send out your campaigns."
A follower of the Top Tip campaign came back and asked if we have any suggestions about how one would go about this task.
Here is what our our team of expert Client Relationship Managers had to say:
Try sending your mails at different times of the day- try a mail in the morning and then schedule your next email in the afternoon. Then compare your open rates after the sends. The same concept can be applied to what day is best.
Kudzai – Everlytic Client Relationship Manager looking after Momentum, Netflorist and Avusa
If you segment your subscriber database according to industry (On Everlytic's software you have recommended industry days and time to send). You will be supplying the right content to the right people at all times. Use cross channel marketing to engage with your clients on different platforms (email, mobile and social).
Monica – Everltyic Client Relationship Manager for Everlytic Resellers
Test, Test, Test! You will probably already have some level of understanding of your audience; use this in combination with Everlytic's industry stats as a guideline and then test different times and days to measure performance according to your campaign goals.
Ashley – Everlytic Client Relationship Manager for Cape Town including Media24, Price Check and Primedia
Get an understanding of the audience you are sending to: Is the audience in management position? Is the content informative, sales related or for survey purposes. All of these aspects play a role as to when people would like to receive your content. Monday mornings for example are not ideal for sales related or data capturing mails. Mondays are generally for business-orientated content where you would like to catch up with clients and get on track and be prepared for the week ahead.
Denise – Everlytic Client Relationship Manager looking after Auto Trader, &Beyond and Asset Management
Monday Blues – Mondays are considered the worst day to send email campaigns. Weekend warriors – It is a known fact that online activity reduces over weekends. Midweek days are the best day of the week for top engagement.
Wilene – Everlytic Client Relationship Manager looking after FNB, Tsogo Sun and Mail & Guardian