If you're on the fence about whether to use a landing page builder, this blog post will give you insights into why it's a powerful addition to your marketing toolkit. There are various methods you could use to create a landing page, but we argue a builder is the most effective. Read on to discover six benefits of using one and a step-by-step guide to our Everlytic builder.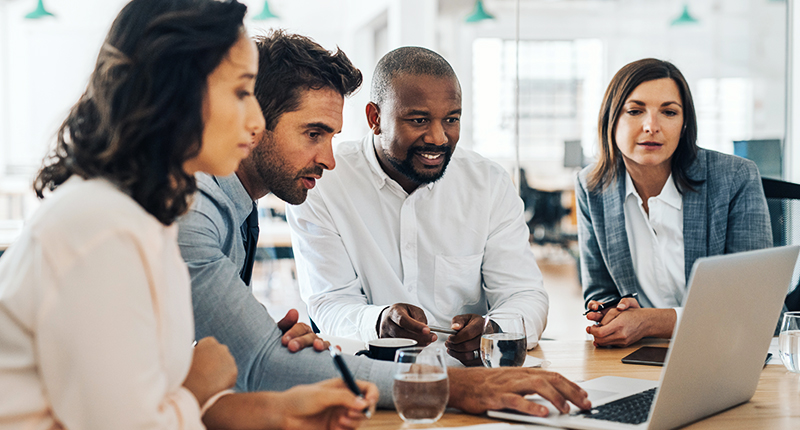 What's a Landing Page Builder?
Before we jump in, let's make sure you know what a landing page is. It's a simplified web page created with a specific focus to promote important information that's outside your everyday business functions, like newsletter subscriptions. Landing pages have proven to be useful in generating leads and optimising conversion rates.
So, how do you create one? We argue a landing page builder is the most efficient way. This is because this tool gives you the capability to create, modify, and publish a landing page without the need for a developer.
Just like email builders, landing page builders often have drag-and-drop functionality and templates you can adapt to suit each campaign. When you find a layout that works well and gets responses from your audience, you can save, re-use, and adapt the template to ensure your future landing pages convert.
6 Benefits of Using This Tool
There are many reasons you should consider using a landing page builder. Here, we list six benefits.
Easy-to-Use: Platforms that offer drag-and-drop composers and templates with customisable designs make it easy for non-developers to create landing pages.
Saves Time: Since using a landing page builder significantly reduces or even cuts out the need for a developer by providing templates to work with, the process of creating and publishing landing pages is quicker – and more cost-effective too.
Customisable: You can create custom, on-brand designs that will resonate with your target audience without needing to learn HTML or CSS.
Screen Responsive: The builder will automatically optimise your images and format your content for different screens. This helps to make your designs user-friendly and responsive on all devices – an especially important consideration given the range of ways people now access information. The more user-friendly your landing page is across platforms, the longer people tend to stay on it, which should help to convert prospects.
Optimises SEO: The builder browser settings allow you to optimise your landing pages for search engines by allowing you to specify the SEO details for your landing page with a page title, description, and URL. This will improve the visibility of your landing page and hopefully attract more traffic to the page organically.
Detailed Reports: You can get valuable information on how your landing pages perform with detailed reports. Some of the metrics you can get insights into include: the number of visits from unique and returning visitors; geographic location; devices used; number of clicks on page links; and number of times attachments were downloaded.
In the age of digital distraction, you need to make sure your offer grabs your customers' attention. Landing pages can do just that. Check out this blog post to discover how you can use them to boost your lead generation and sales conversions.
Time to Build a Landing Page
To give you an idea of how a landing page builder works, we're showing you a step-by-step guide to using Everlytic's Landing Page Builder so you can see the ease of the process.
Step 1: Select the Builder
There are various ways to create a landing page. Everlytic's platform gives you the option to use the Builder, Classic, or Coder approach. You could also import a design from a website or CMS, or upload it via a ZIP file from your computer.
For this demonstration, your first step is to select the Builder option.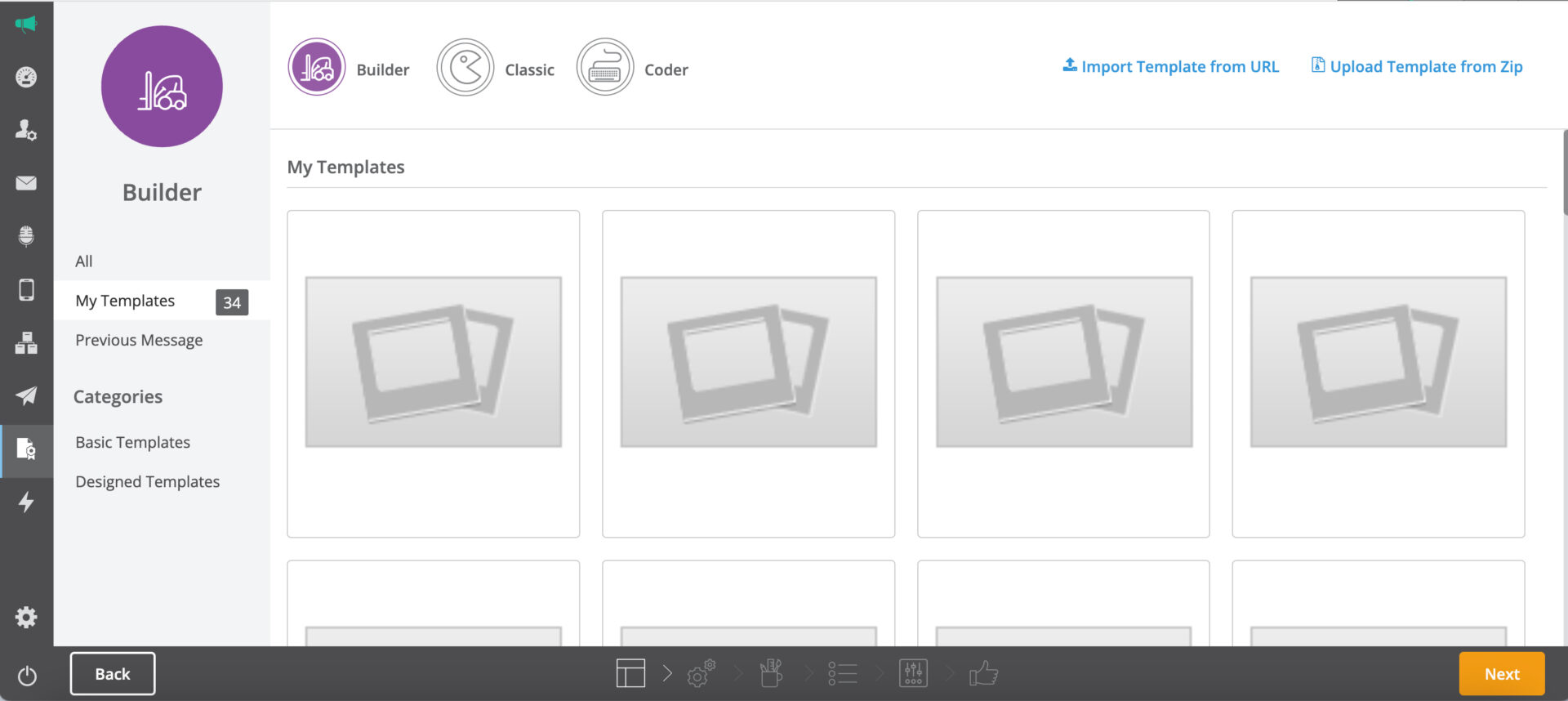 Step 2: Select a Template
Once you've selected the Builder to create your landing page, you'll be able to choose a template to use. There are some basic and designed templates, and you can also refer to ones you've previously saved – which is handy, especially when you have a template that performed well among your consumers.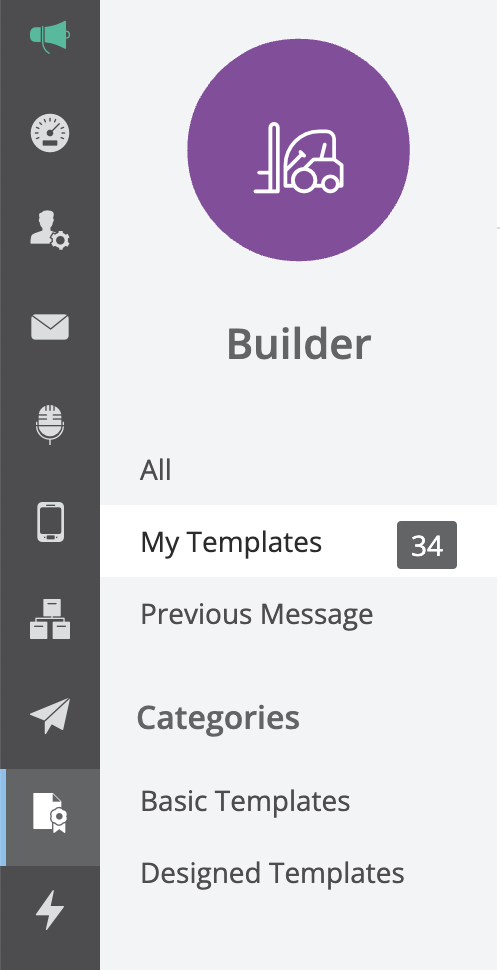 Step 3: Define Page Properties
Distinguish your landing page from others on the platform by defining the Page Name and Description.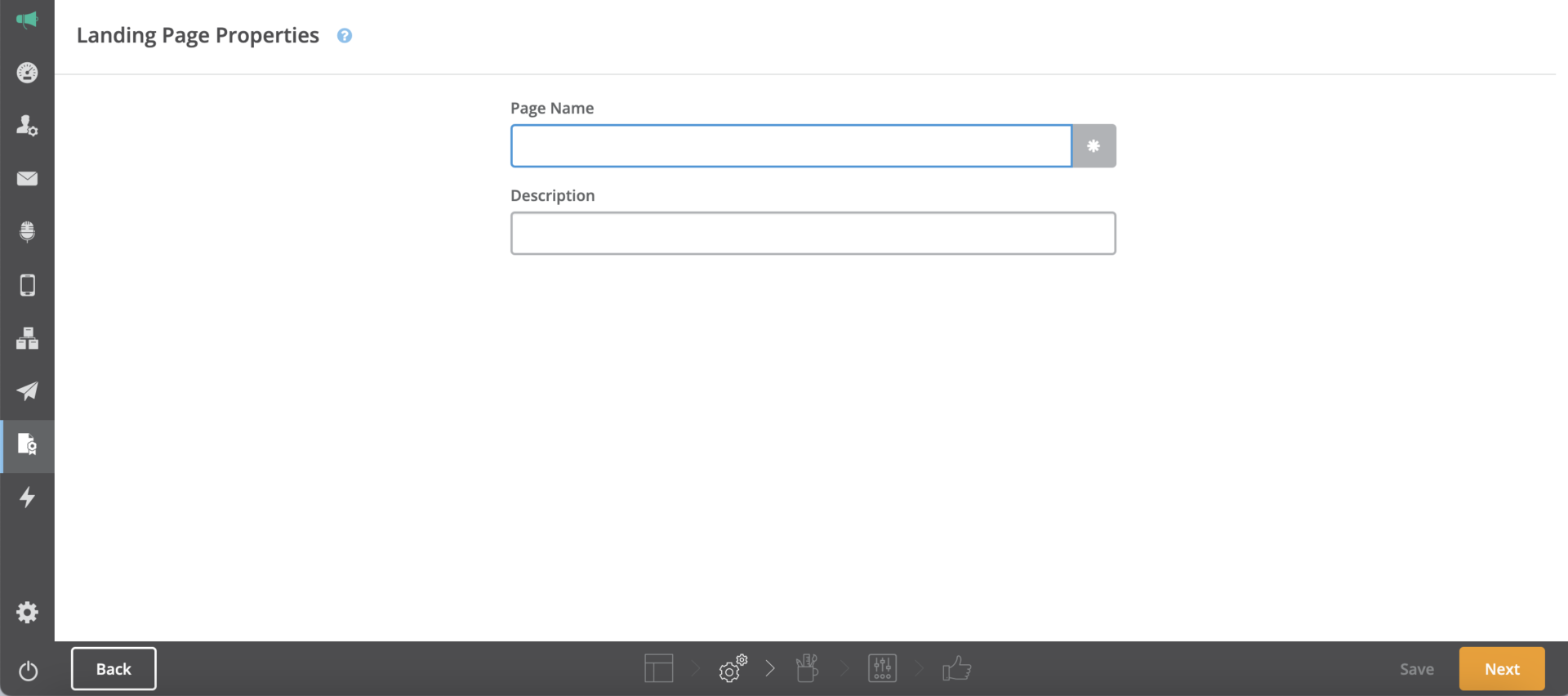 Step 4: Compose Your Page
The composition process is similar to that used on the Everlytic Email Builder. There are three tabs in the left-hand toolbar, allowing you to customise the following:
Layout – Drag and drop columns and sections to create the framework of your landing page. You can add social icons too.
Content – Drag and drop the placeholders onto your page and edit them with your unique images and wording.
Customise – Edit the colours, background, buttons, and any other content you wish to personalise.
On the top bar, you'll find an Add Attachment icon which gives you the option to upload a file from your computer or create an event. When ready, click Done and your attachment will be uploaded to your landing page.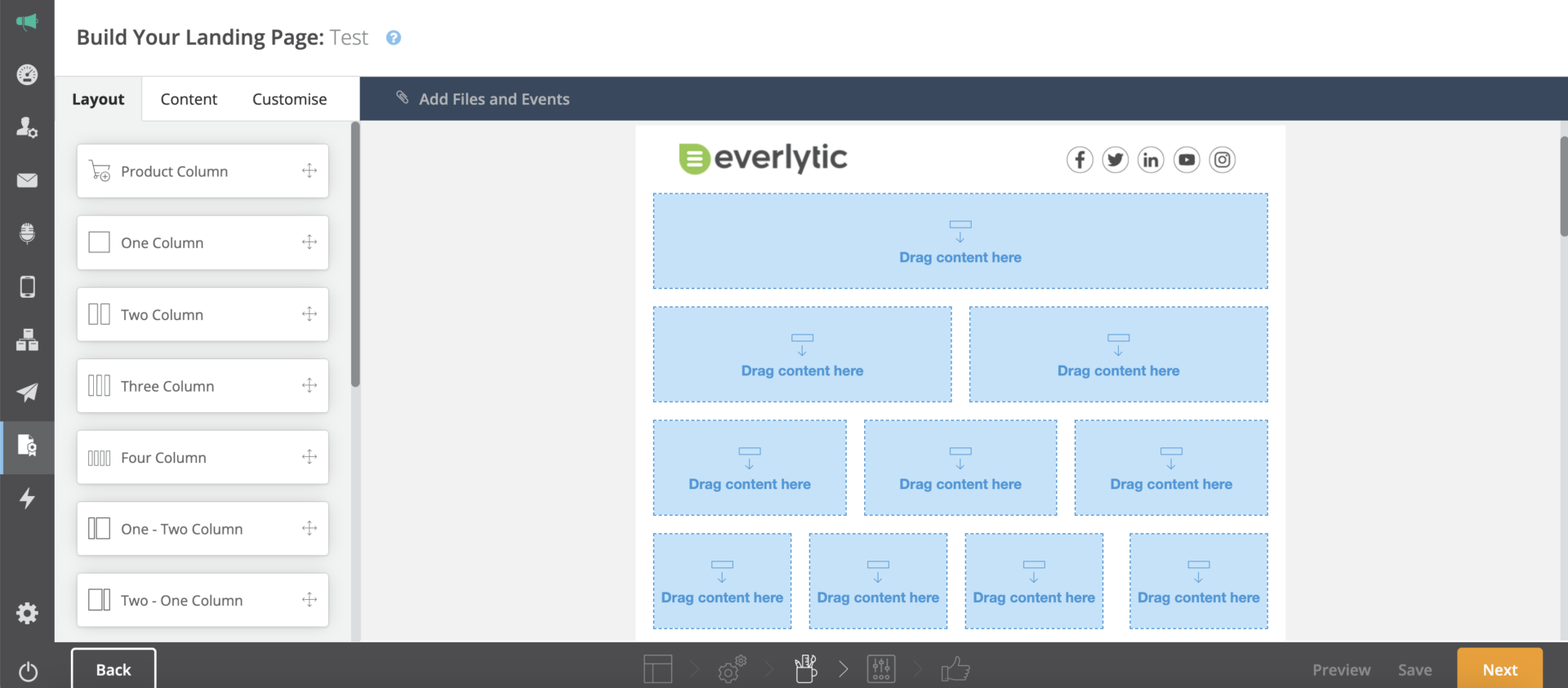 Step 5: Specify SEO Details
Under Landing Page Settings, you can specify your Page Title (the name of the landing page as seen from the web browser tab), Page Description (used for website summary), and Page URL (add your custom URL name to the text box).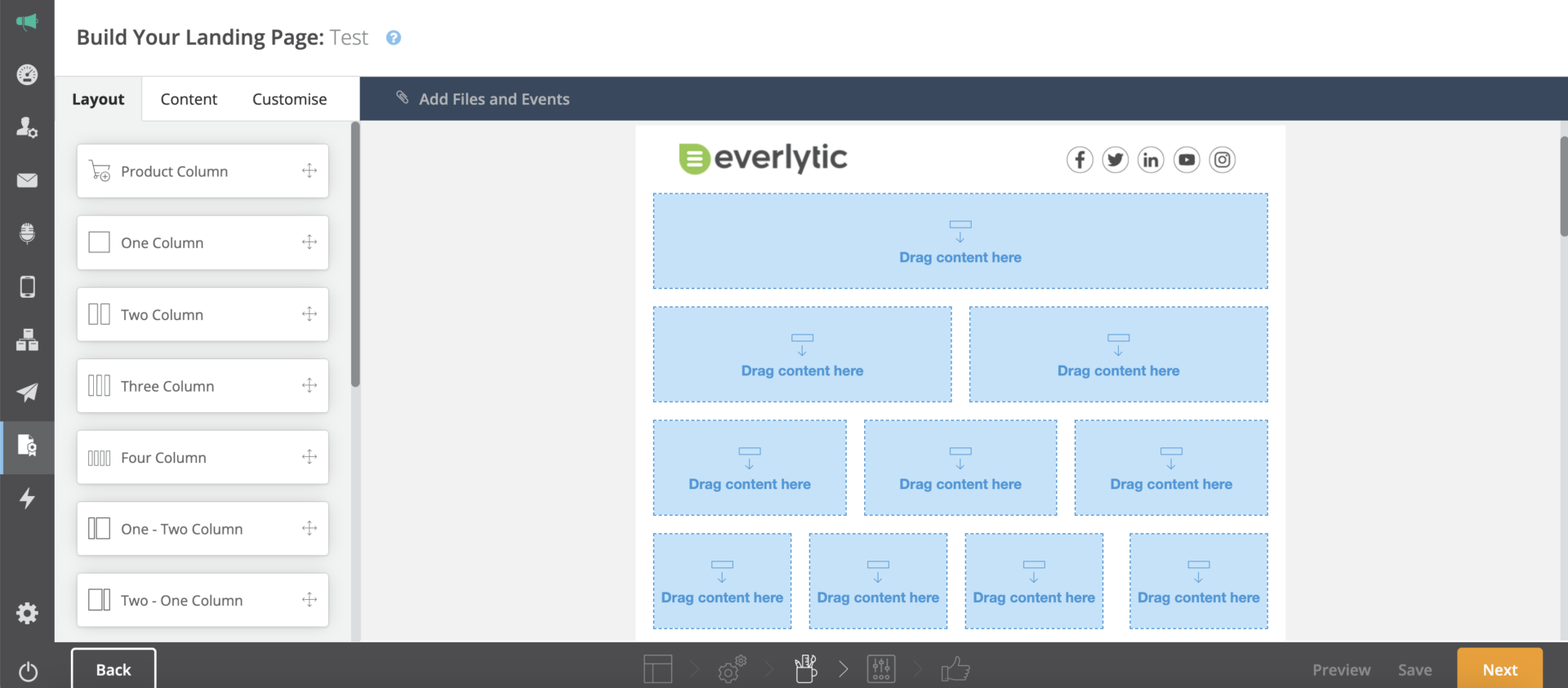 Step 6: Confirm Page Readiness
Before you hit the Publish button in the bottom right-hand corner, you'll be able to preview the landing page, check the page properties and SEO settings, and view your attachments to ensure they uploaded correctly. Then click Publish and your page will be live for your audience to view.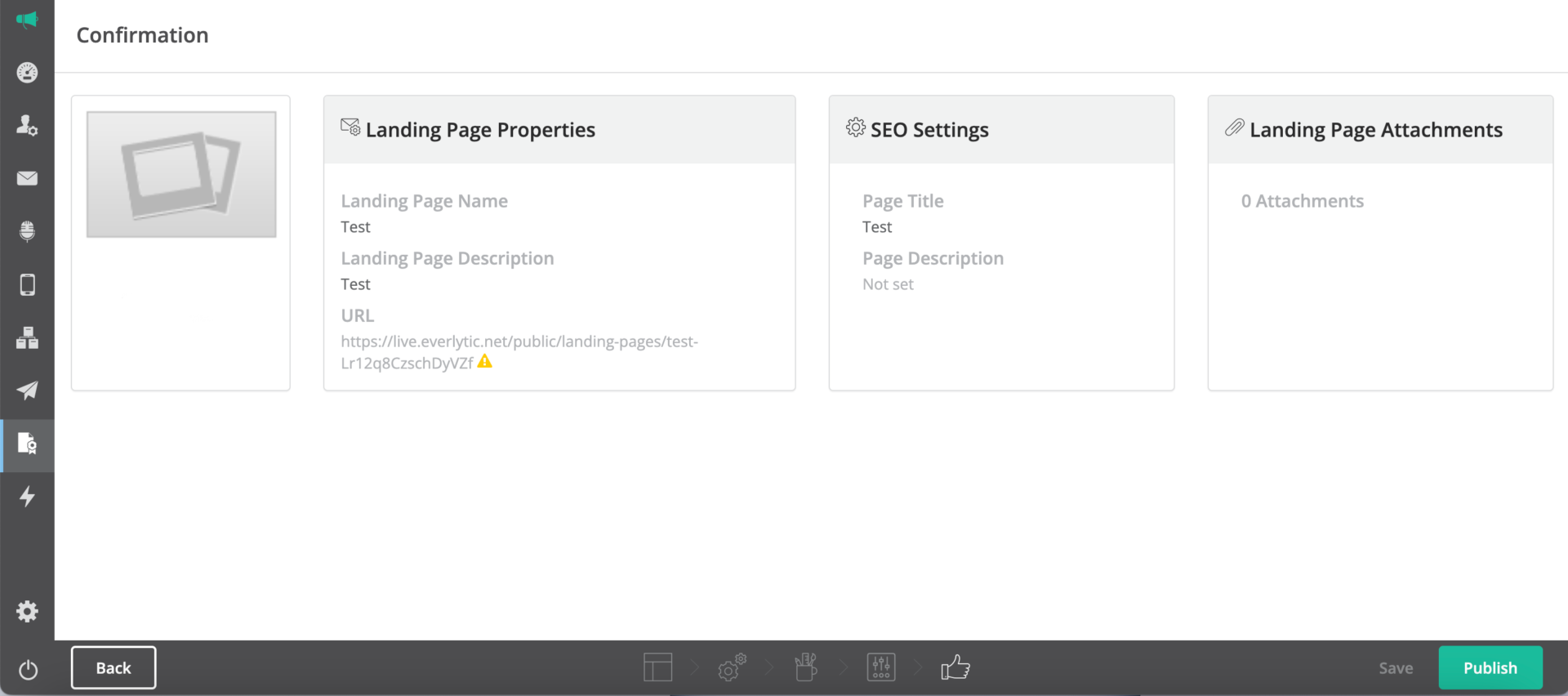 Take the Effort Out of Creating Landing Pages
A landing page builder is an effective and easy-to-use tool to create powerful, custom landing pages in a short timeframe. It also reduces the need for a developer while ensuring the landing pages are responsive on all screens, which is essential in holding your audience's attention – an especially important consideration in the age of digital distraction. Being able to measure the designs that do well through detailed reports is key to ongoing success of your landing pages as you can re-use successful templates. Given the many benefits and ease of use, it's a no-brainer for marketers to add a landing page builder to their toolkit.