Customers expect instant confirmation on their transactions with your business. To do this efficiently, you need transactional message automation, as it keeps customers informed and can improve business efficiency. In this blog post, we'll explain what transactional messages are and share six examples of how you can use them.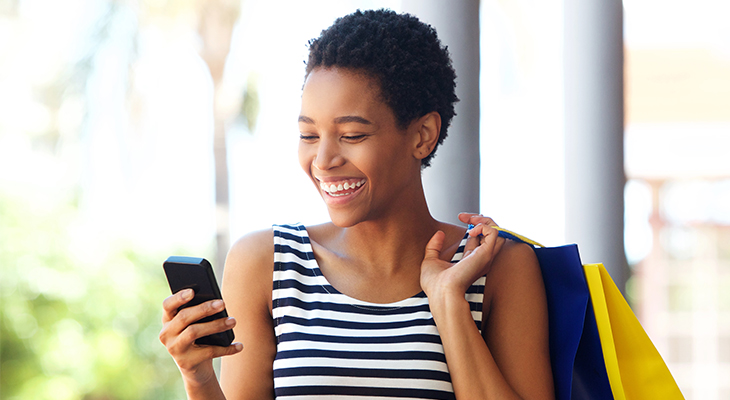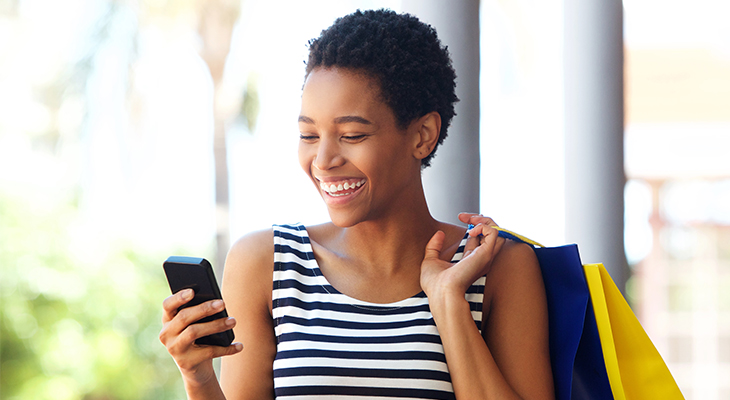 What are Transactional Messages?
Transactional messages are service-delivery messages sent automatically via email, SMS, or voice, in response to a user's interaction with your business. It's usually triggered from a website or online system, like a CRM, via an integration with a transactional-messaging platform, like Everlytic. It can personalise the content of a message template, so the information delivered is relevant and helpful to the recipient.
In a nutshell, transactional messages are:
User-responsive: Sent in real-time, in response to a customer's interaction with you.
Hyper-personalised: Message info is applicable only to the recipient.
Secure: Service-supporting messages sent to one client, when needed, often to deliver private information (e.g.: receipts and statements).
The main difference between transactional messaging and marketing messages is that transactional messaging is sent in support of a customer's existing transactions with your business – it's necessary for you to deliver the service. It isn't a sales or marketing tool to get them to buy from you.
How to Use Transactional Messaging
Here are six examples of how businesses can use transactional messaging:
Example 1: Banking: Alert Customers of Account Activity
This is one of the most well-known uses for transactional messaging, as most of us probably get transactional messages from our banks regularly. These are sent to alert us when there's any kind of movement on our accounts, including online banking logins, payments in and out, debit orders, and suspicious activity.
Banking alerts like this help prevent fraud by alerting you to any activity on your account in real-time, so you can ensure all activity is valid or alert your bank immediately if it isn't.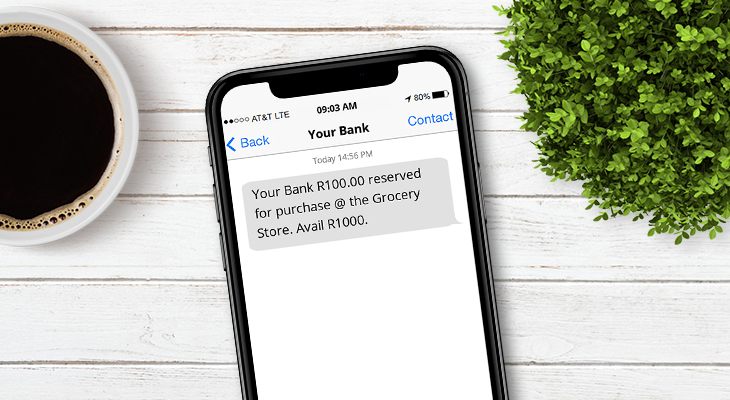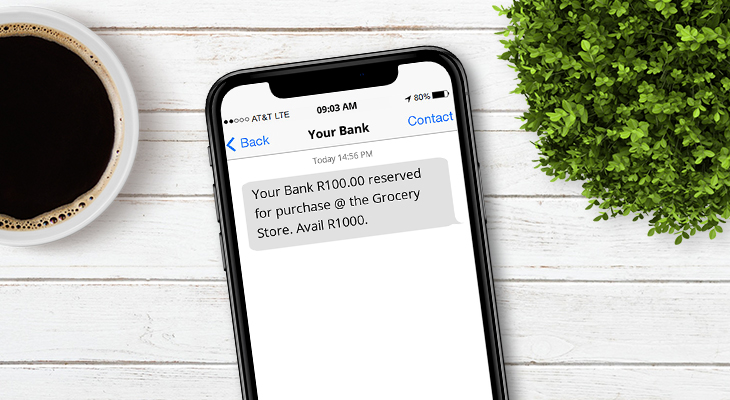 Example 2: Retail: Automate eCommerce Transaction Notifications
Run an online store? Transactional messaging can keep your shoppers informed about their orders using order confirmations, receipts, processing updates, delivery notifications, and service rating requests.
A customer whose expectations are managed is at ease and feels secure about shopping at your store. Automating this saves you time, streamlines the notifications process, reduces error, and improves the customer experience – all of which are great for business.
Example 3: Travel: Auto-Trigger Travel Booking Confirmations
Travel is often a high expense, so customers are more likely to be anxious for confirmation when they make these bookings. Transactional messaging enables you to inform travellers of their bookings in real-time, putting their minds at ease, improving the customer experience, and boosting their likelihood of booking with you again.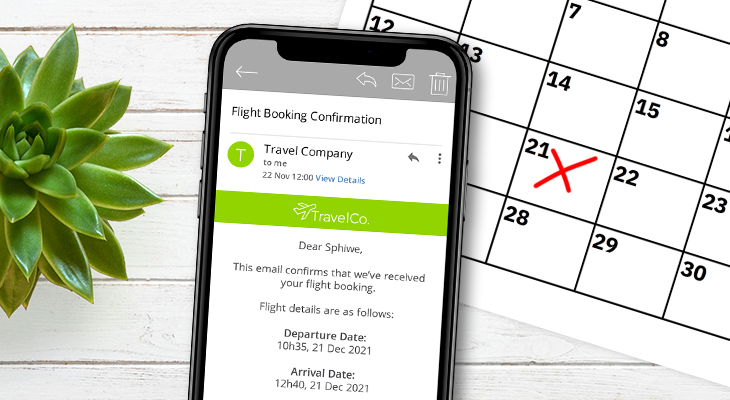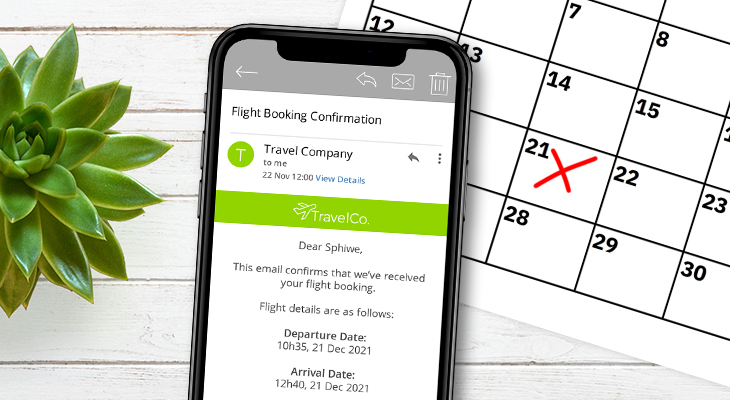 Example 4: Automotive: Automate Updates on Vehicle Services
Automotive dealers book many vehicles in for services and repairs. Imagine, for every vehicle booked in, that automated alerts went off to the client, keeping them updated on their vehicle's progress. Personalised confirmations and notifications like this can alert them when their vehicle has been booked for a service, when the work is complete and going to the washing bay, and when the vehicle is ready to collect.
Example 5: Insurance: Alert Clients to Policy Updates & Claims
With transactional messaging, insurance brokers and providers can automatically alert clients to changes on their insurance policies and updates on their claims; improving the client experience, reducing staff workload, and lowering the risk of human error when important rollouts are on the go.
Example 6: Debt Collection: Notify Customers of Payment Defaults
Missed payments happen in every business. This usually results in someone having to call or email the client to chase up. With transactional messaging, you can reduce bad debts by automatically notifying customers of payment defaults, informing them of the debt-collection process, and helping them get back on track.
Transactional Messaging with Everlytic
The possibilities for transactional messaging go far beyond the six we've listed here. If you have a system that responds to client engagement, you can use it to trigger transactional comms as it happens.