Thinking about or planning to build a landing page? Not sure where to get started? Over the next couple of weeks, we'll share a two-part blog series on how to get the most out of your landing page.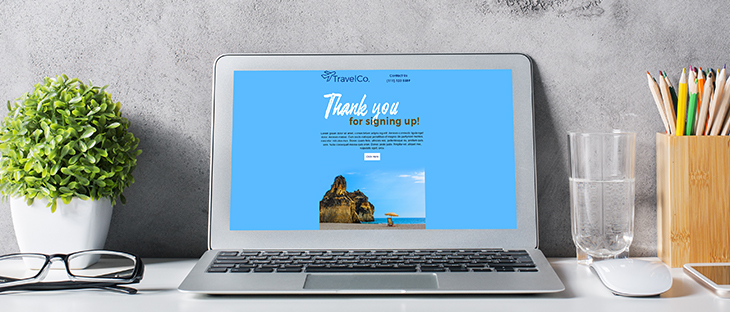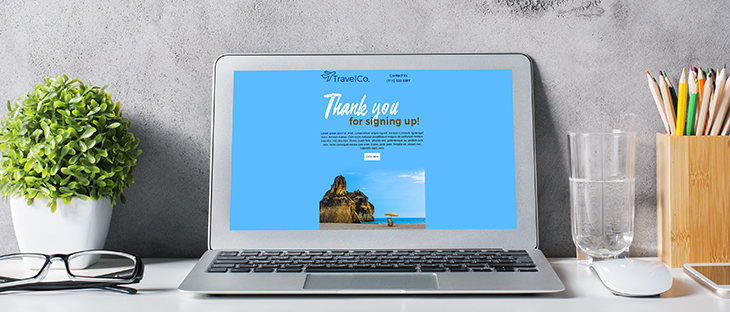 In this blog post (Part 1), we'll cover:
What landing pages are
What to consider in planning
What the best practices are
In Part 2, we explore:
What the elements of a good landing page are
Some examples of good landing page design
Enjoy!
What's a Landing Page?
A landing page is a simplified version of a web page, usually used for a specific purpose outside of your business' everyday functions.
For example, landing pages are often created as virtual information spaces for people responding to things like adverts, eBook downloads, newsletter sign-ups, and other services. You can also use landing pages to collect user information, because the more you know about your readers, the more personalised your emails can be.
Landing pages work well for:
Thanking people who sign up for your mailing list
New product adverts
Time-sensitive information
Downloadable eBooks and whitepapers
Subscription forms for newsletters or events
Research shows that companies using 40+ landing pages get 12 times more leads than those with five or less.
The Planning Stage
Before you make your landing page, ask yourself:
If you should use a landing page
You wouldn't be reading this blog post if you weren't interested in using a landing page. But, should you be using one for your specific purpose? Part of your planning must be deciding whether a landing page does what you need it to do.
What the goal of your landing page is
Have a clear goal in mind so you can design your landing page in line with it. If you don't, your readers won't have a clear understanding of what they're supposed to do.
What your competitors are doing right
Research other landing pages in your industry. Take note of the ones that you find effective and keep these in mind when planning your landing page.
What your target audience looks like
Have a good understanding of who your audience is and what their needs are. Keep this in mind when designing your landing page, so you can keep the tone right for the people you want to speak to.
Once you've answered these questions and planned your landing page, you're ready to start designing it.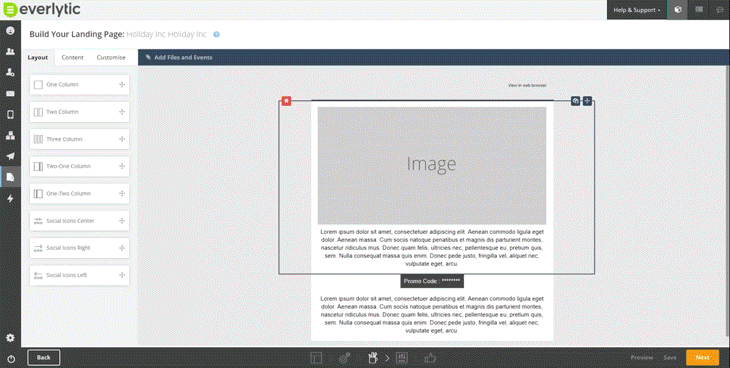 Best Practices
These are some of the best practices in landing-page design. Let them guide you.
Collect & Design Using Subscriber Data.
If all your subscribers are in one city, it won't be worth their while sending them something related to another city. Create different landing pages for different audiences, so the information you share is relevant to them. If you link to the landing page from an email or SMS sent from our platform, you can also use personalisation tags to personalise bits of data in the message or insert their name into the content.
Continue the Conversation Between Channels.
You hooked them with your initial message – your landing page must continue the same conversation. For instance, if you link to your home page from an email about a product on offer, your readers will be confused. But, if you link to a landing page created specifically for the offer, they'll know why they're there and what you want them to do.
Have a Single, Clear & Focused Message.
Every part of your landing page must match your core message, or your reader may get confused about what you're offering. Remember, landing pages aren't websites – they're targeted and specific to a specific goal.
Include One Strong Call-to-Action (CTA).
You're trying to get your readers to do something – make sure they know exactly what it is. Sticking to one clear CTA gets maximum impact and ensures subscribers are clear on what the next step is. Other CTA tips include:
Making your CTA big and positioning it above the fold, so subscribers don't have to scroll to see it.
Directing attention to the CTA using photos, videos, or even just the format of the text (a V-shaped, centred paragraph can look like an arrow pointing to a button CTA).
.
Use Testimonials from Previous Clients.
Sharing how others have benefitted from your products and services encourages trust.
Optimise your Page Copy for the Internet.
People don't read everything you write on the internet. Eye-tracking studies show that they scan content in a kind of F-shape. So, where it makes sense, format your copy with:
Bullet points
Short sentences and paragraphs
Simple language
Lots of white space (visual breathing room, free of images and text)
Bold key words
Sub-headings
.
Optimise Your Landing Page for Mobile.
With smart phones dominating more of the market, mobile-responsive landing pages are essential. Especially if your subscribers click to your landing page from a mobile channel, like SMS.
Create a Page for Each Traffic Source.
Create separate landing pages for social, email, and PPC, so you can measure the results and optimise the pages for each audience. Read more here.
Segment your Offers by Subscriber Interests.
You'll get much better results if you share offers that people are interested in. Try directing people in certain regions to location-relevant news, or women to women's retail sales. The more subscriber data you have for the emails that direct them there and the more targeted your social media campaigns, or the more targeted your landing pages can be.
A/B Test your Headline, Body Copy & CTA.
Use the A/B test functionality on an email to inadvertently A/B test the headline, body, and CTA content on two versions of a landing page. You can do this by sending the exact same email in an A/B test – the only difference between the two emails is the URL of the landing page that you link to from each one. 
You'd send one email to 50% of your list and link that email to one version of your landing page. You'd then send the other email, which looks exactly the same as the other email, to the other 50% of your list, linking to another version of the landing page. No percentage of your list should receive the 'winner' email, because you're not actually A/B testing the email – you're A/B testing the engagement on the landing pages that they link to.
Remember: The emails look the same – the landing pages that they link to are different.
Once the A/B test emails have been sent, you can discard any results on the email A/B test, (as both emails looked exactly the same to the recipients) and instead, track engagement stats on the two different landing pages. 
Because the emails themselves are the same, and the emails are randomly split 50/50 across your list, any difference in engagement on the landing pages should be because of the differences on the landing pages, not because of any difference in the emails. This strategy should help you to optimise your landing page, squeezing as much engagement out of your audience as possible.
Try Different Lengths of Subscription Forms.
See what works best for your readers and the offer you're promoting. Generally, forms on landing pages have 11 fields. But research shows that reducing this to four fields can increase conversion by up to 120%.
Now that you know the foundations of landing-page creation, go to part 2 of this series. In it, we cover what the elements of a good landing page are and some examples of impactful landing page design.
.
Can't wait to get started? Read more about our landing page builder or contact us for a demo.
.