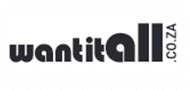 About Wantitall.co.za
Wantitall.co.za is a trusted online shopping site that brings over 15 million products to the South African market. They are the main importer of "hard-to-find" products from the USA, ranging from books, DVDs, toys, clothing, jewellery, electronics, photography equipment, games and much, much more. If a product can't be found on Wantitall.co.za, you can request it from them and they will scour the planet to find it for you. This makes acquiring "hard-to-find" products easy and convenient for all, plus Wantitall.co.za delivers anywhere in SA directly to your door.
The Challenge
The objective of Wantitall.co.za's email marketing strategy is to:
Drive traffic to the website
Increase sales
Encourage repeat purchases by existing clients
Offer "subscribers only" vouchers to encourage subscription sign ups
The Solution
Every Tuesday morning Wantitall.co.za dispatches an email to their database followed by a reminder email on a Friday morning. Each email contains a unique coupon code with a special offer for that week only. The offer is limited to one order per subscriber. Examples of special offers:
Free Delivery
R50 Off your purchase
10% Discount off your purchase
20% Discount off your purchase
The Results
These coupons are used to track sales and measure conversion through Wantitall.co.za's internal ERP system. Once that coupon has been triggered through a purchase it can be tracked back directly to the specific email that was the first point of contact for the sale.
Wantitall.co.za measure and track their results with these tools:
Sales are tracked by unique coupon codes as mentioned above.
Everlytic's Google Analytics tracking on their links to effectively track website traffic. By utilising Everlytic's email message reporting that reports on all activity within a specific email communication.
Wantitall.co.za Benefits
The effectiveness of email marketing on achieving Wantitall.co.za's objectives:
4%-5% of total website traffic is coming directly from email marketing campaigns.
10%-11% of total Sales are generated from email communications.
For every R1 spent Wantitall.co.za receives R3 in return on profits.