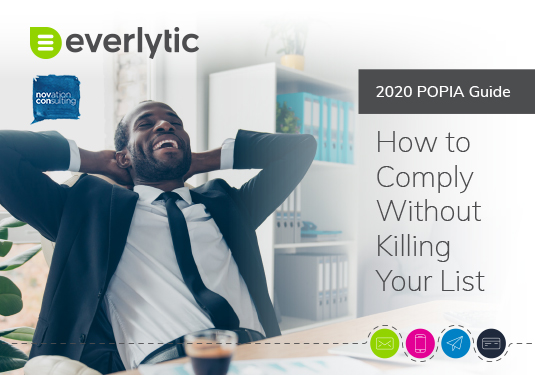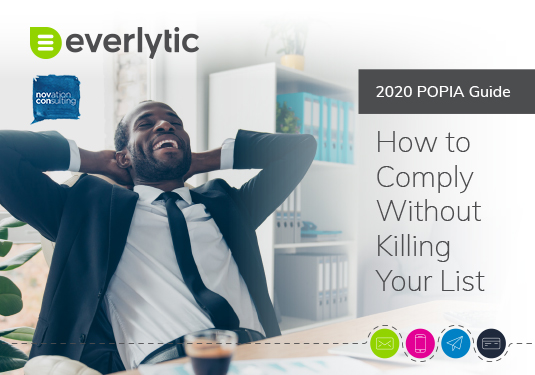 The President has announced that all organisations must comply with POPIA by 30 June 2021. But what does that really mean?
In this POPIA guide, Everlytic and POPIA expert, Elizabeth de Stadler from Novation Consulting cut through the noise. You learn about the real impact of POPIA on marketing, what to do about it, and how not to kill your contact database in the process.
Part 1
The rumours are flying about what POPIA will mean for direct marketing.
In this part of the guide, we bust some rumours by showing you how to navigate the legislation, how it relates to marketing, and correct some misleading statements.
Part 2
Building Your Mailing List
The name of the game is to become POPIA compliant without killing your mailing list. The good news is that it is possible!
In this part of the guide, we get real about what you can do with your existing mailing list, buying (or selling) leads, signing people up for direct marketing, and managing unsubscribes.
Part 3
Managing Your POPIA Risk
In this part of the guide, we share the behaviour that's gotten marketers into trouble and explore when it may be useful to take a risk-based approach.
On the other side of risk is opportunity. We discuss the benefits that privacy and responsible information management can have for marketing and share insights into a new customer segment called the 'privacy actives'.
POPIA doesn't have to kill your mailing list – it just changes how you manage it. In fact – it may even serve you. With the tips in this guide, you can get be ready when POPIA legislation becomes enforceable.